Green Hill Hostas
New Hostas for the Wholesale and Retail Trade

A division of GREEN HILL FARM, INC. Bob and Nancy Solberg
P.O. Box 16306, Chapel Hill, NC 27516 Phone: 919-309-0649


E-Mail: greenhill@mindspring.com Fax: 919-383-4533
www.HostaHosta.com


---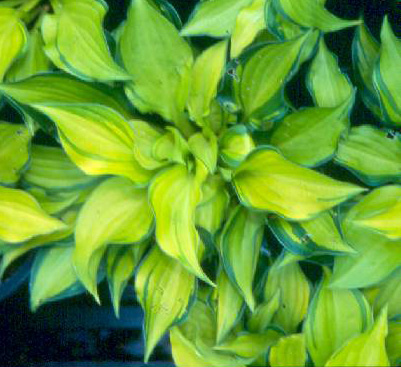 Hosta 'Cracker Crumbs' (left)'
---
2003 WHOLESALE HOSTA IDEAS
At Green Hill Farm, Inc. we are dedicated to supplying new and rare hostas to the wholesale trade. Many of these plants may be new to you so feel free to call and ask questions concerning your order. We will be glad to talk to you, as we are in the information business also.
New for 2003:
At Green Hill Farm we offer not just new hostas but hostas that sell. 'Cracker Crumbs', which is pictured above, is a beautiful mini, with a fast growth rate and good substance, and is the first of our "crumb" series of miniature hostas.
Yes, again this year we are offering several new, high quality hostas.
'Orange Marmalade'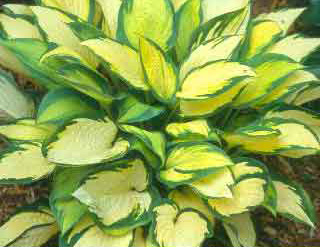 'Orange Marmalade' is a rare hosta that emerges beautifully variegated with a leaf center similar to the color of 'June'. Then, instead of fading in color with summer's heat, it takes on the look of 'Paul's Glory' with the center becoming yellow or creamy in more light. To top it off, between these two brightly variegated phases the leaf center turns an unusual orange gold! Here is a hostat that is at its peak from emergence to frost.
Please note: We are currently in the process of filing a patent application for `Orange Marmalade'. We welcome inquiries about our licensing progream for those who wish to asexually propagate our newest hosta.
'Crocodile Rock'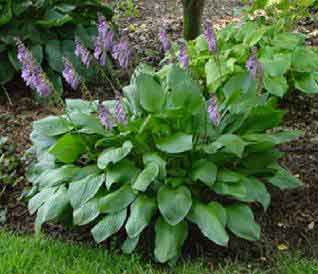 Unusual and even weird hostas are now highly sought by collectors. `Crocodile Rock', like 'Hart's tongue', is a vertical hosta with upright leaves and straight scapes. Both become more puckered as they age in the garden.
'Tortilla Chip'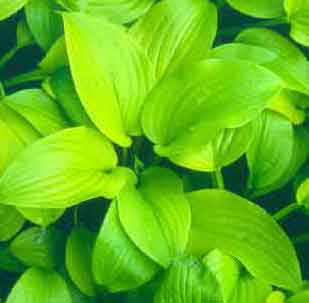 'Tortilla Chip' is the all gold sport of 'Stained Glass'. 'Tortilla Chip' stays bright yellow all season, as does 'Gilt by Association'. Both bring that "screaming yellow" color to the garden center in the Spring.
---
2003 WHOLESALE CATALOG
Click here
to see the wholesale catalog for 2003. (It will appear in a new window.)
---
To order, please use this list to make selections and then send in the order using the secure order form, fax, or phone call. All prices are FOB Chapel Hill, NC, and the customer will be billed for the exact cost of shipping. There is no boxing or handling fee. All shipping will be by UPS unless otherwise requested. Second Day Air may be required if shipping time would otherwise exceed three days. All hostas are guaranteed true to name and are nursery certified. All claims should be made within five days of receipt of order. Hosta Hosta!!


Wholesale Orders: We require a minimum order of $350.00 and we ask that you order cultivars in lots of ten.

HOME | RETAIL LIST | WHOLESALE LIST | HOSTA NEWS | BOB'S TIPS | ORDER FORM | ABOUT US | FEEDBACK
© Copyright Green Hill Farms Inc. 2002 Last revised: November 24, 2002 RB