"Hosta Hosta" Specials
<![if !supportEmptyParas]> <![endif]>
          This year at Green Hill Farm we are continuing our  "Hosta Hosta" craziness  and now it is on our web site too, www.HostaHosta.com. What is our "Hosta Hosta" program? It is actually two programs in one.
<![if !supportEmptyParas]> <![endif]>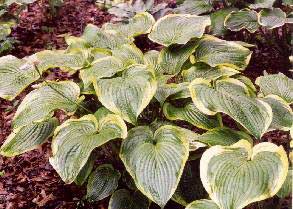 Hosta 'Unchained Melody' (left)
'Unchained Melody' (Wilkins 2000) - Like huge, slug resistant variegated hostas? This new 'Dorothy Benedict' seedling X H. nigrescens 'Elatior' seedling from Jim Wilkins is for you; wide yellow to cream margin; near white flowers in June.
$65HH
          HH:  First, many of our newest, most expensive hostas will be packaged "two to make one". That is, HH after the price stands for Hosta Hosta and means that if you buy one then you get another one free. For Example: If you order 'Unchained Melody' this year from the catalogue for the price of $65.00 you will receive not one but two plants. Now there is no need to wait a year or more to divide your new hosta to share it with your hosta collecting buddies; now you can do it right away. And I know this sounds strange coming from a man trying to sell you hostas, but you and a friend can now go in together on a new expensive hosta and both of you can have the plant in your gardens this season. So call your hosta buddy and order together.
<![if !supportEmptyParas]> <![endif]>
          TFT: Secondly, this year we are offering several hostas that normally retail for $15.00 in a special "Two for Twenty" promotion. You can buy one plant of 'Dark Star' for $15.00 or you can buy "Two for Twenty".  Most of these plants are blooming size single divisions but some are doubles. So,  you could share these special hostas with a friend or just plant both divisions in the same hole and have a really nice clump next season. Either way it is good value for good hostas.
<![if !supportEmptyParas]> <![endif]>
          Remember, as with all the hostas that we ship, our "Hosta Hosta" selections have been container grown from tissue culture liners for at least a season. They are guaranteed true to name and have never been divided. All come with our famous heavy root systems, ready to thrive in your garden. Also, if we feel our plants are smaller than we would like to ship you, we tend to add an extra plant to help get your clump established!
<![if !supportEmptyParas]> <![endif]>
          I know everyone is looking for value these days and hosta folks are no exception.  And it is always hard to pass up a bargain. So look for "Hosta Hosta" in our listings and share the fun. "Hosta Hosta", "Hosta Hosta"!                
Copyright (c) 2002 Green Hills Farms Inc, All rights reserved. Rev Feb 21, 2002 RB

HOME | ABOUT US | HOSTA NEWS | BOB'S TIPS | WHOLESALE LIST | SECURE ORDER FORM | FEEDBACK


Green Hill Hostas
New Hostas for the Wholesale and Retail Trade
A division of GREEN HILL FARM, INC. Bob and Nancy Solberg
P.O. Box 16306, Chapel Hill, NC 27516 Phone: 919-309-0649
E-Mail: greenhill@mindspring.com Fax: 919-383-4533
www.HostaHosta.com