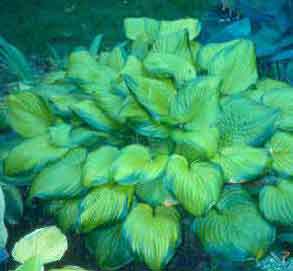 Green Hill Hostas
New Hostas for the Wholesale and Retail Trade
A division of GREEN HILL FARM, INC. Bob and Nancy Solberg
P.O. Box 16306, Chapel Hill, NC 27516 Phone: 919-309-0649
E-Mail: greenhill@mindspring.com Fax: 919-383-4533
www.HostaHosta.com

---
Top Ten Hostas of the Past Ten Years
| | | |
| --- | --- | --- |
| 1. | 'Guacamole' | (1994) |
| 2. | 'Striptease' | (1991, introduced 1995) |
| 3. | 'Stained Glass' | (1999) |
| 4. | 'Paradigm' | (1999) |
| 5. | 'Praying Hands' | (1996) |
| 6. | 'Night before Christmas' | (1994) |
| 7. | 'Pandora's Box' | (1996) |
| 8. | 'Guardian Angel' | (1995) |
| 9. | 'Millennium' | (1995) |
| 10. | 'Lady Isobel Barnett' | (1996) |
by Bob Solberg
---
I call the past ten years in the hosta world the "Age of Sports". The easiest way for me to demonstrate this is to point out the "Top Ten Hostas of the Past Ten Years". Comments are welcome and disagreements expected but beware I can back up seven or eight of these choices pretty well.
First the rules. All eligible hostas were registered and/or introduced between 1994 and 2004. This puts more recently introduced hostas at a disadvantage since I (we) may know little about their garden worthiness, how widespread they will become in the hosta market, and even their ability to stay alive. It takes usually three to five years after introduction for a hosta to be well understood so I apologize in advance to hostas like 'Victory'PPAF, 'Touch of Class'PP#13,080, 'Candy Dish', 'Earth Angel', 'First Frost' and 'Orange Marmalade'PPAF.
I have used several criteria for selecting these hostas. I reviewed the AHS Popularity Poll, the AHGA Hosta of the Year recipients and nominees, as well as the catalogues of the major introducers of new hostas. I also evaluated parentage, "Great sports come from great seedlings", and the excitement that each hosta brought to the public at large and collectors in particular. Some hostas are great plants but they just never catch the public's fancy.
I also eliminated hostas that are not great performers in the garden. If you can not keep it alive or it falls apart in mid-summer, then it was left off the list regardless of market impact. I then tried to be objective and not favor my own children. I have instead included a list of what I consider my "Top Ten Introductions", a task every hybridizer should attempt at least once.
In the list of the "Top Ten Hostas of the Millennium" that I published five years ago and is still on our Website click here, I gave no reasons for my choices in hopes of creating discussion. I feel in retrospect that was a mistake. So this time I have given some clues as to my choices. As before the hostas are listed in order of importance. I hope the hate mail questions my sanity for the omissions to the list and not the ranking of the hostas I selected.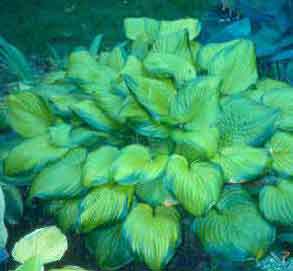 'Guacamole', AHGA Hosta of the Year in 2002, has rocketed to #5 on the 2003 AHGA Popularity Poll and is the most important link in the 'Fragrant Bouquet' line of sports, adding the dark green color to the line. Renown for its rapid growth rate and sun tolerance, it flourishes in all parts of the country from Florida to Minnesota and is the perfect first hosta for any new collector.
'Striptease', introduced at the AHS Convention in 1995 in the Washington, D. C. area is 2005 AHGA Hosta of the Year and #6 on the 2003 AHS Popularity Poll. It is that thin white line between its dark green margin and misty gold center that makes it such a collector's treasure. Easy to grow but quick to sport, it is producing maybe the largest line of varied sports imaginable. Sport enthusiasts love it but nurserymen find it hard to produce but usually worth the trouble.
'Stained Glass' has that glowing truly yellow leaf center that catches every eye. AHGA Hosta of the Year in 2006, it has all the great traits of its parent, 'Guacamole'. It is a great, fast growing nursery plant that never fails to sell in the spring.

'Paradigm' is the most underrated hosta I know. Only #21 on the 2003 AHS Popularity Poll, it combines maybe the best color of any gold-centered hosta with the substance and texture of the classic sieboldiana / 'Tokudama' look. It too grows surprisingly well in both cold and warm climates.
'Praying Hands' is a very popular plant and in my opinion very ugly, too. I now publicly admit that I have been wrong about the plant, not that it isn't ugly, but that it isn't a hosta that every garden should have. It satisfies the collector's need for something different, distinct and even weird in a kind of elegant way. Its habit allows it to be featured in little nooks in the garden, by a rock, or behind a birdbath. I can not argue with success. I guess the name saves the plant.
'Night before Christmas' is the answer to all our dreams for a large white-centered hosta. It is also "tetraploid" and with white-centered hostas that means more chlorophyll and more vigor. A plant that thrives on morning sun, it can get four feet across or more with plenty of water and fertilizer.
'Pandora's Box', I believe, more than any other hosta, has fueled the so called mini craze. It is a rare white-centered miniature blue with good substance. It does multiply well but is slow to grow and remains small for years even if pampered. That's not a negative, isn't that whole point of a mini? Some find it hard to grow but it stays with me here year after year through hot summers in containers. If you lose it in the garden, try it in a trough. That's where minis belong anyway. Now #25 on the 2003 AHS Popularity Poll thanks to Bob Olson.
'Guardian Angel' as a mature six or seven foot wide clump is amazing. All giant hostas demand awe but a light-centered blue one is too good to be true even if the coloration is subtle in summer. It will stop you dead in your tracks. The flowers are white, numerous and perfectly balance the clump. Now #24 on the 2003 AHS Popularity Poll.
'Millennium', finally a seedling! I just had to have a blue hosta on the list and it is hard to beat a big blue hosta. It has huge leathery leaves so tough that one leaf won leaf shows two weeks in a row in different cities! It also grows well in the South unlike many of its big blue brothers and has an upright habit that you can hide a small child under.
'Lady Isobel Barnett', and all 15 or more of its named look-a-likes, is an imperfect hosta but that is part of her charm. I do not know if it is its dark green center or gold margin that is irregular but the result is that every leaf is different and every eye searches for that one with the perfect wide edge. Its rapid growth to a huge size provides all gardeners with pride and confidence in their ability to grow hostas. If it is not the world's largest hosta by now it will be soon.
The point of all this is that 9 out of 10 of my top ten hostas are sports, two thirds of the hostas on the 2003 AHS Popularity Poll, defined one way or another, are sports, too. Many are variegated forms of classic solid colored hostas. 'Paradigm' is from the gold 'Abiqua Recluse', 'Guardian Angel' from 'Blue Angel', 'Pandora's Box' from 'Baby Bunting' and 'Lady Isobel Barnett' from 'Sum and Substance'. Sports rarely reinvent the wheel, they just add color to already great ideas. Sometimes they do however, like 'Striptease' and 'Praying Hands'.
Sports also give us variegated hostas that are not diluted genetically. 'First Frost' is a variegated form of the cross 'Tardiflora' and H. sieboldiana 'Elegans', ('Halcyon'). It is pure "Tardiana". For the Lachmans' to create a variegated 'Halcyon' by hybridization it was necessary to cross a streaky seedling with 'Halcyon', to produce 'Gay Blade' for example. This necessary addition of genetic material from H. sieboldii and maybe other species, created a similar looking hosta to 'Halcyon' but more complex genetically. Hybridization can create better hostas in this way but can also more often than not inject unwanted traits into seedlings. Sports give us a genetically "pure" variegated hosta.
If the best hostas are sports how do hybridizers keep pace? Great seedlings make great sports. Imagine 'Corkscrew' with a white edge. 'Candy Dish' with a gold center or 'Cutting Edge' bordered in gold. Hybridize a great solid colored hosta first and then variegate it, either by sporting or a single cross onto a streaked pod parent.
By the way, gold-centered hostas have done pretty well for themselves. 'June', 'Paul's Glory', 'Guacamole', 'Gold Standard', 'Inniswood', 'Choko Nishiki' ('On Stage') and 'Paradigm' comprise over 25% of the 2003 AHS Popularity Poll including three of the top five. 'Paul's Glory', 'June', 'Guacamole' and now 'Stained Glass' have become AHGA Hostas of the Year. Every one of them sports!
---
Top Ten Hostas from Green Hill Farm
| | |
| --- | --- |
| 1. | 'Guacamole' |
| 2. | 'Orange Marmalade' PPAF |
| 3. | 'Corkscrew' |
| 4. | 'Ginsu Knife' |
| 5. | 'Korean Snow' |
| 6. | 'Cracker Crumbs' |
| 7. | 'First Frost' |
| 8. | 'One Man's Treasure' |
| 9. | 'Deane's Dream' |
| 10. | 'September Sun' |

HOME | BOB'S TIPS | WHOLESALE LIST | RETAIL LIST | SECURE ORDER FORM | FEEDBACK
Copyright Green Hill Farms Inc. 2005 Last revised: March 4, 2005